2017 EHS Attendee Registration
---
Full Week Registration

Per Day Registration

Registration Period
Member Rate
Non-Member Rate
Member Rate
Non-Member Rate
Early - 2/21 to 4/28
$1,060
$1,460
$290
$390
Advanced - 4/29 to 5/26
$1,160
$1,560
$315
$415
Onsite
$1,360
$1,760
$360
$460
---
Additional Registration Information
Workshop registration pricing will be $315 per day.

Trade Show passes are $165 each - attendees have the option of attending on Tuesday, Wednesday, or both days.

If you are an exhibitor registering booth personnel, you would not want to purchase a Trade Show Pass.

That registration will go live in May, and the registration form will be emailed directly to the exhibiting company.

If you are buying a day or week pass, you do not need to also purchase a Trade Show pass. The Trade Show is included with the Seminar.

Attendees

are not

locked into attending any one track:

purchasing a day or week pass allows attendees to go to any track or session during that period.

Online registration will end at MIDNIGHT on 5/26.
Onsite registration at Moody Gardens will be available starting at 7:30 AM on June 5.
Attraction Passes
Schlitterbahn and Moody Attraction passes are available for purchase through the registration form. Schlitterbahn passes are $65 per pass, and allow unlimited use Monday through Thursday. Moody passes are $55 per pass, and include all the attractions except the zipline with unlimited use from Monday, June 5th, to Friday, June 9th. Passes will be placed in your registration envelope and will not be sold onsite.
To purchase Attraction Passes with a personal card rather than a company card, just start a new registration, but only purchase Attraction passes. Then check out with your personal card. We'll make sure they're in your envelope!
2017 EHS Mobile App
Download the 2017 EHS Seminar Mobile App! The EHS Mobile App will be the tool to navigate the Seminar onsite and download session presentations.
Session presentations will be available for download the week before the Seminar.
To download the 2017 EHS Seminar Mobile App, just search the App Store or Google Play for "EHS Seminar 2017."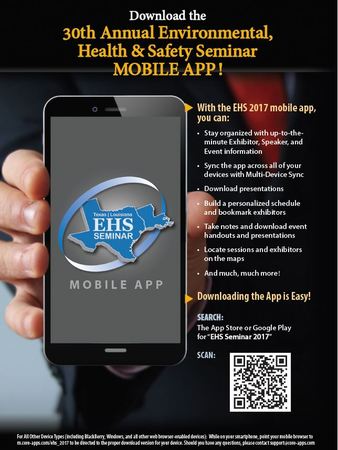 ---
Questions? Please contact:


Robert Bennett - bennett@texaschemistry.org
P. (512) 646-6404
F. (512) 646-6420